There are a few ways to access LOU, depending on what you need to accomplish.
LOU Web

is the full LOU ERP.

This is accessible on

any internet-ready device

, on a browser (for the best user experience, we recommend Google Chrome on a laptop or desktop).

LOU Retail POS

is the App on your retail point-of-sale PAX hardware.

This App is only accessible on those point-of-sale machines

. This app primarily allows you to process cash & carry transactions, though you can access a few other features in LOU.

LOU Schedule Mobile App

is a companion app your service techs will use in the field to complete Schedule Tasks.

This App is downloadable via your mobile device (on the Apple App Store or Google Play Store for tablet or phone)

. Check out our

Device Recommendations

.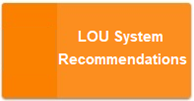 Interested in learning more?
For additional information on internet connectivity, browser recommendations, and more, continue reading.
Internet Connection
An internet connection is required to access LOU Web and Apps. Our Onboarding Team can help analyze your internet connections and make recommendations.
We recommend an internet speed which is common for most home applications. For LOU to perform optimally, the internet speed should be 25/5 Mbps. This represents a peak downstream speed of 25 Mbps and a peak upstream speed of 5 Mbps.


REMEMBER!
Even if you have optimal internet speeds, you may experience issues with latency. Latency is measured in milliseconds and represents the time it takes for data to be transferred between its original location and its destination. For wired networks, this is commonly less than 100 milliseconds anywhere on the web. For wireless networks, the number can be a lot higher. Anything higher than 400 milliseconds is problematic for LOU.
Wired or Wireless (WiFi)
Whether you are wired or wireless is entirely up to you! The retail point-of-sale hardware is equipped to work with a wired connection or over WiFi. Computers, both desktop and laptop, are equipped to connect to the internet through a wired or WiFi connection. Our Onboarding Team can help you determine the additional equipment needed for a reliable WiFi network.
REMEMBER!
While point-of-sale hardware and computers work well on WiFi, a wired connection is always going to be the most reliable. Whenever possible, setting up your equipment with a wired connection is advised. This applies only to your computers and point-of-sale hardware.
Offline Mode
When the internet is not available, either due to an outage or poor cellular reception, there are certain tasks in the LOU Retail POS and LOU Schedule Apps that can be completed while in Offline Mode, with limitations, and Synced to LOU Web once a reliable internet or cellular connection is established.
LOU Web is an internet-based application that is only available through an internet browser. For this reason, LOU Web is not available in Offline Mode.
Hardware
LOU is cloud-based, which means you do not need to purchase servers to house LOU. LOU can run efficiently and effectively on any internet-ready device.
However, you will need at least one laptop or desktop to perform setup and configuration functions in LOU.
This will be especially important during your onboarding, when all tasks will need to be completed from a laptop or desktop. Mobile devices, including "laptop replacement tablets", are not ideal for setup and configuration tasks. This is due to the differences in how computer operating systems interface with the internet versus mobile device operating systems. You will need a device running a full computer operating system such as MacOS or Windows, not a mobile operating system such as iOS or Android.
You can find our LOU-approved mobile devices that will work well with a compatible browser for LOU Web or for the LOU Schedule Mobile App here.
REMEMBER!
Worn out, or older cables, and equipment can negatively impact performance even if they meet system recommendations for LOU.
Licenses
LOU licenses are subscription-based, meaning there's a monthly fee for maintaining user access to LOU. Unlike Perpetual licenses, users do not own the license. See
What is Saas?
for additional information.
If you would like additional information on how licenses are billed, head over to Plans, Bundle Options, & Permissions.
LOU can be accessed by a single user on a maximum of 3 devices including:
Desktop or laptop

Tablet

Smartphone

Any internet-enabled device
CAUTION!
It's important to understand that does not mean you should be actively working in LOU on three devices logged in with the same license. Doing so will confuse the system and data entered or changed may not save correctly. If one device logs out, you may lose work in progress on another device. Each user who will perform tasks in LOU should have their own user license to maintain integrity of the data and prevent problems.
Each user should only be logged into one app on one device at a time. If you are logged into LOU Retail POS on PAX, you should not be logged into LOU Web on a computer at the same time. If you are logged into LOU Web on a computer or mobile device, you should not be logged into LOU Schedule on a mobile device at the same time, and vice versa. User Licenses should be logged into one app on one device, and in ONE tab, at a time.
IMPORTANT!
Device information like IP address and location may be collected to help enforce license limitations. See
EULA: LOU
for additional information.
Browser Compatibility
LOU Web is only accessible via an internet browser. These can be downloaded for free on your internet-ready device.
The LOU Schedule Mobile App is a stand-alone app that does not require a browser. However, this app is designed specifically to focus on those areas of LOU associated with Schedule Tasks. You cannot access the full LOU application from the LOU Schedule Mobile App.
The LOU Retail POS App runs exclusively on POS hardware. It cannot be accessed from another computer or mobile device.
REMEMBER!
You are always going to have the best user experience by remaining current on your OS and Browser versions.
REMEMBER!
LOU has been thoroughly tested and optimized for use in Google Chrome. While you may be able to access LOU and work without error in another browser, we encourage you to use Chrome as this will provide the best user experience. If you experience errors, or have trouble loading pages, in another browser, please switch to Chrome and try again.
Browser Zoom
For the best viewing experience, we recommend keeping your Browser Zoom between 80-90%.
Operating Systems
LOU Web is accessed via a browser. The Operating System on the machine is not as important as the browser. However, older operating systems create security and performance challenges and my impact your ability to keep your browser up to date. This may cause a subpar experience in LOU Web. Older, slower machines may result in a subpar user experience.
We recommend remaining within the two most recent versions of your preferred Operating System. Our Onboarding and Support Teams can help you determine if your Operating System needs to be updated.
REMEMBER!
You are always going to have the best user experience by remaining current on your OS and Browser versions.
Mobile Device Operating Systems
Mobile Apps are not browser-based and are more dependent on Operating Systems. Check out Mobile Device Recommendations for additional information.
Contact Support or Onboarding for questions regarding your point-of-sale hardware's operating system.