Schedule Divisions allow you to group personnel into logical units for scheduling purposes. Common Divisions are Delivery, Repair, Cleaning, and Construction. Personnel can be members of multiple Divisions.
The Schedule Divisions screen allows you to configure a few key pieces of information for scheduling:
Default

Route Starting Locations

: As the name suggests, these are the locations from which the field techs will start their service routes. You may have Schedule Divisions which are based out of the same location, or you may have Schedule Divisions which are also separate locations. Setting those Default Route Starting Locations is important for correct routing and time allocation when Scheduling.

Route Starting Locations on the Schedule Division level can be overridden in Personnel Profiles for those instances where a tech "home garages" their work truck and starts from an alternative location.

Scheduling Hours

: Different Schedule Divisions may have different service hours. Being able to set the service hours ensures schedulers will not book appointments which are outside of service hours.

Primary Personnel

: Schedule Divisions are all about grouping personnel. Primary Personnel are the people who are primarily scheduled for calls originating from that Schedule Division. At the time of scheduling, the scheduler can override and select other personnel.

Dispatchers

: These are the personnel in the Schedule Division in charge of monitoring and organizing the service calls and sending the techs out, according to the schedules.
IMPORTANT! You must add Primary Personnel to your Service Divisions to ensure the techs can see, and be scheduled for, Scheduled Tasks in the

Schedule Dashboard

. You must add Dispatchers for those managers and users who are not techs, but need to see the Schedule Tasks in the

Schedule Dashboard

.
WAIT! You need to make sure you've created your Route Starting Locations before you proceed.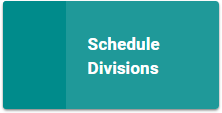 Go to Product Setup / Service / Schedule Divisions
1. To create a new Schedule Division click

2. Enter a Name and Default Route Starting Location.
3. Click

when finished.
Repeat these steps for every Schedule Division you want to create.



Update Schedule Divisions
Once you've created the Schedule Division, you can update and configure several pieces of information tied to the Schedule Division. This includes setting up Primary Personnel, which is an important step in setting up your Service Techs' Calendar.
Click the Actions tab next to the Schedule Division you want to update and configure. Click Update.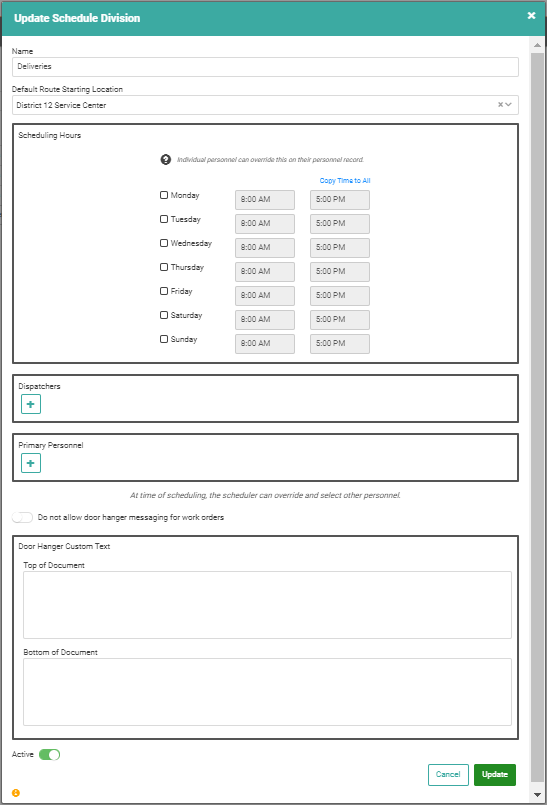 Scheduling Hours
This is where you determine what hours this Schedule Division operates for service calls. Setting these hours prevents Tasks being scheduled outside operating hours.

REMEMBER! If Personnel are configured to override hours, they are able to schedule outside the Schedule Division Hours.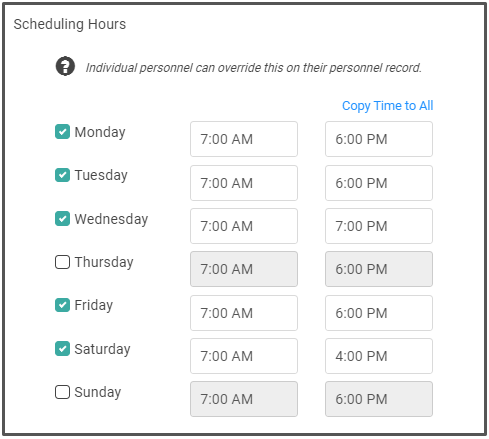 Dispatchers and Primary Personnel
Assign Dispatchers in charge of assigning/scheduling Tasks and Primary Personnel who are the Service Techs who will be going out and performing the Tasks.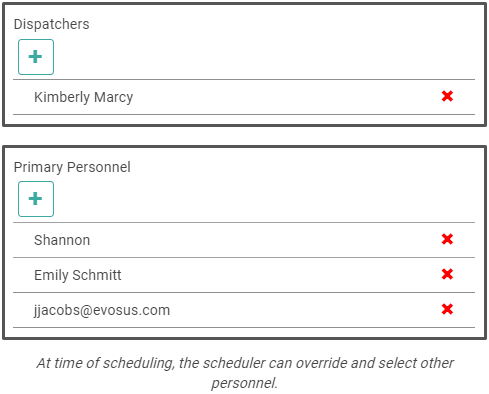 IMPORTANT! In order to view Tasks in the Schedule and Service calendars, personnel must be listed as either Dispatchers or Primary Personnel. Techs must be listed as Primary Personnel to be scheduled for tasks. Users who are not listed as Dispatchers or Primary Personnel can still schedule tasks, but they will not be able to see them on the Calendar.
Door Hanger Custom Text
These two fields allow you to customize the text which appears on the top and bottom of your Door Hangers. There is a toggle button to prevent Door Hangers from being sent on Work Orders associated with the Schedule Division.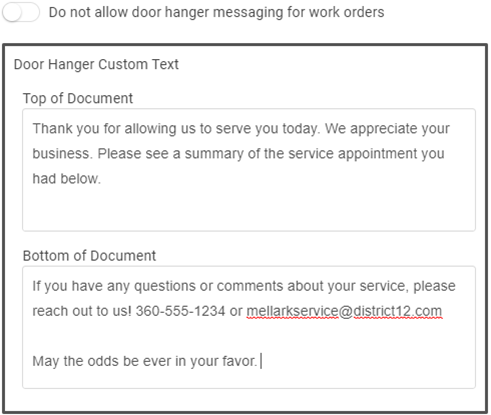 Delete Schedule Divisions
You cannot delete a Schedule Division. However, you can deactivate it by clicking the Actions link, selecting Update, and toggling the Active Status button off.