At Evosus our Client Success team believes the Onboarding process is extremely important for your success. We've taken care to establish a process that meets you at your level and we have experts ready to help along your journey.
The average time to get up and running on LOU is 60 days. We find the time it takes depends on how organized you are and how much time you're able to dedicate to the process. We are generally able to move as quickly as our clients.
When purchasing LOU, you gain access to the software and get assigned to an Onboarding Specialist to help guide you through the process. You are also given a reserved block of time to leverage Onboarding Services. This block of time is based on your chosen Go Live Date and the average time to complete onboarding. It is important to stick to the project plan as there is no guarantee we'll have time available if your project lingers beyond the reserved block of time.
The onboarding process is the same for our Evosus Legacy clients who are migrating to LOU. We've created a Legacy to LOU® Path set of documents that will help you assess the differences between the two and determine if you are ready for LOU.
Head to the first document, Legacy to LOU: 1 Data Transfers, and it will take you on to the rest.
Your Roadmap to Success (3 - 9 Weeks)

1.
Purchase
LOU (Day 1)
: Congratulations on purchasing LOU and initiating your onboarding project.
Purchase at lou.evosus.com
Select an expected Go Live month
2.
Receive
a Welcome Email (Day 1)
: Get ready for your first interaction with our Onboarding Team. They mean business, so this email is chock-full of very important information.
The name of your designated Onboarding Specialist
Link to your TSYS Merchant Account application
Access to the LOU Business Review
Calendar invite to meet your Onboarding Specialist
3.
LOU
Business Review (Day 3)
: This is where you can give us important information about you and your business needs. The sooner this is completed, the sooner we can customize your Onboarding Project.
What hardware you need
Information regarding your technical environment
Any add-on services from which you may benefit
4.
Project Kick Off Meeting (Day 3 - 5)
:
This discussion will make sure our objectives are aligned and we've identified any potential roadblocks. We'll also schedule follow-up meetings and assign your initial homework (begin data entry on import spreadsheets).
Discuss the Project Plan
Make decisions about your hardware and add-on services.
Work with TSYS and our Evosus Financial Services Team to ensure TSYS approval happens ASAP. (Hardware cannot be ordered until this is complete.)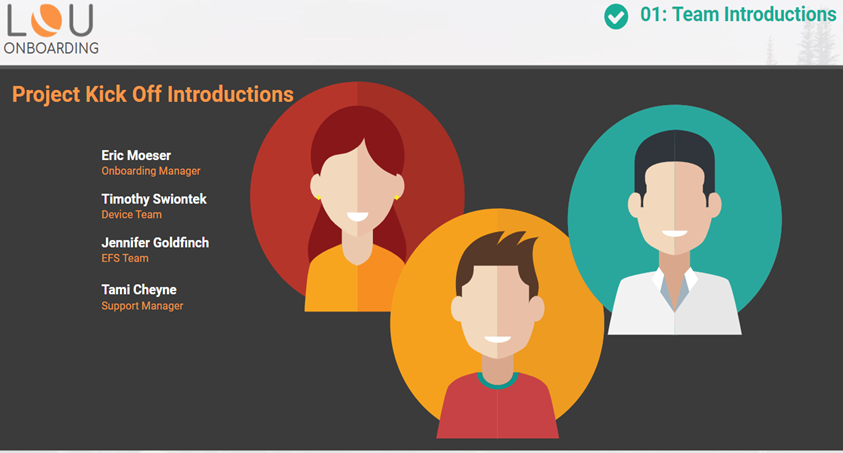 5.
Product
Setup (Day 6 - 35)
: LOU has a built-in Product Setup Tool that will help you stay organized as you work through various tasks.
Your step-by-step Setup Tasks ensure nothing is missed.
Setup Tasks are broken down by LOU Categories.
Click "Get Started" on a tile to go to the task list.


6. Weekly Progress Meetings (Day 7 - 45): During this time we'll go through your tasks to ensure the project is moving forward and your questions are answered.
Weekly homework status
Setup completion progress
Q&A
Next week's assignments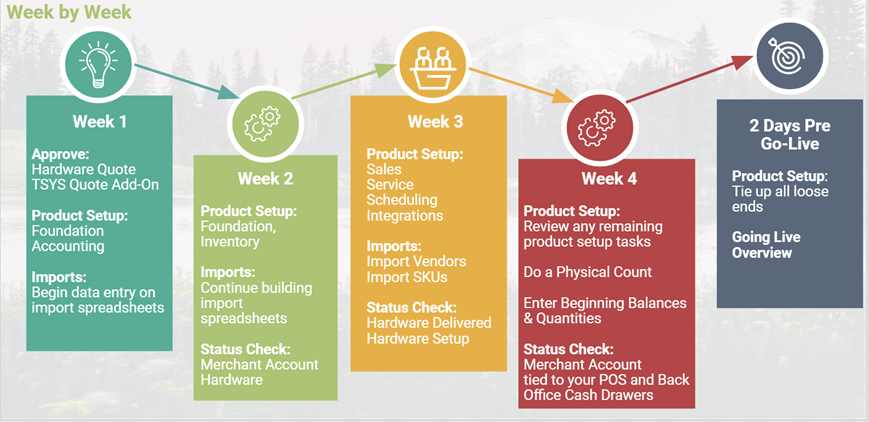 7. Final Preparations (Day 58 ): Our Device and EFS Team will work with you to ensure your hardware is working with LOU and your Merchant Account is tied to your hardware.
DB Review
Product Use Assessment
Test Go Live - QA
8. Going Live and Beyond (Day 60): As in the beginning of this process you'll receive another email, "You're Live on LOU", that's chocked full of important information.
PAX How-To videos
Merchant Account dashboard login instructions
Link to our New to LOU FAQ document
How to use Evosus Client Support