How to Create Vendor Types - LOU® - Powered by Evosus
Vendor Types allow you to create the different kinds of vendors with which you do business.
LOU automatically creates a default Vendor Type when you create your company in LOU. You can rename this General Vendor Type and create additional Vendor Types.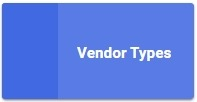 Go to Product Setup / Accounting / Vendor Types
To create a new Vendor Type, click

Enter a name in the Description box
Repeat these steps for each Vendor Type you want to create.
Delete Vendor Types
You cannot delete a Vendor Type. However, you can uncheck the box under the Active column.
To see your Inactive Vendor Types, change the Active Status dropdown to All.