Task Types are short descriptions of scheduled work. In addition to naming the task, you can assign Minutes to Complete, a Division, and Assets to the Task.
The Minutes to Complete are crucial. LOU uses the Minutes to Complete in scheduling to ensure the appropriate amount of time is blocked off on the schedule.
TIP!
Set up Divisions first. When creating a Task Type, assigning a default Division helps autofill fields, completing the Create Task Type page quickly.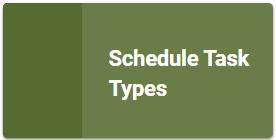 Go to Product Setup / Service / Task Types
To create a new Task Type click

Give your Task Type a Name

Enter Estimated Minutes to Complete

Assign a Default Division

Assign Assets that should be Scheduled with this Task Type.

TIP!

Assigning Assets to a Task Type helps eliminate user error by making sure the correct Assets are available and scheduled for the Task. This is especially important when Assets are limited, such as specialty equipment which may have limited availability.

Click
Repeat these steps for each Task Type.
Delete a Task Type
You cannot delete a Task Type. However, you can deactivate it by clicking the Actions link, selecting Update, and toggling the Active Status button off.