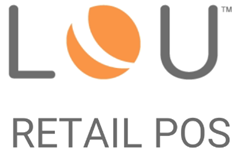 This article steps through the process for configuring (opening, closing, etc) the Cash Drawer on LOU Retail POS through a PAX machine. If you are looking for steps to configure, open, close, and print history for a LOU Web POS Station such as one for your Back Office, please see How to Access POS Station Management.


In order create transactions through your LOU Retail POS PAX machine, you must Configure the cash drawer at the beginning and end of your session. This is the same as opening and closing a cash register.
REMEMBER!
Before you can configure a cash drawer, you need to sign into the PAX machine. Each user must have their own unique username/password. This will be the same username/password you use to log into LOU Web. You will also need your POS PIN, which can be found in My Account Profile in LOU Web. You cannot use your PIN on a PAX machine another user is logged into. Usernames/Passwords are directly tied to POS PINs.
Configure Cash Drawer to Start a New Session
When you first log into LOU POS, you will need to configure the Cash Drawer. This should happen before you enter your PIN to start a transaction.
Log into LOU Retail POS with your LOU username and password.

Enter the Department and POS Station you'll be using.

Switch Company

: This button gives you instructions on how to switch the company to which you are signing in through LOU Retail POS. This button is only for those users who belong to multiple LOU companies. Most of you can disregard this button.

Tap Configure to enter the POS Session Configuration screen.

Tap Open POS Station.

Follow the instructions on the screen to enter the amount of currency in the Cash Drawer. You can use the Cash Counter.

When you've entered the total, click Open POS Station.

You are now ready to enter your PIN and begin a transaction.
Configure Cash Drawer to Close and End a Session
You may choose to close your cash drawer at the end of the day, or at the end of a shift. Whenever you choose to close the cash drawer, you will need to perform these steps.
IMPORTANT!
Transactions should sync automatically. However, make sure you Sync with LOU if you have any pending transactions, prior to closing the cash drawer.
TIP!
Before closing the Cash Drawer and POS Session, you may want to look at Session Transactions.
To close your Cash Drawer and POS Session, follow the steps below:
From the Log In screen, click Configure.

Select Close POS Station.

Follow the instructions on the screen to enter the total amount of currency currently in the drawer and the amount of currency you are leaving in the cash drawer for the next session. To quickly count bills and tally the total, use the Cash Counter.

When you're finished, click Close POS Station.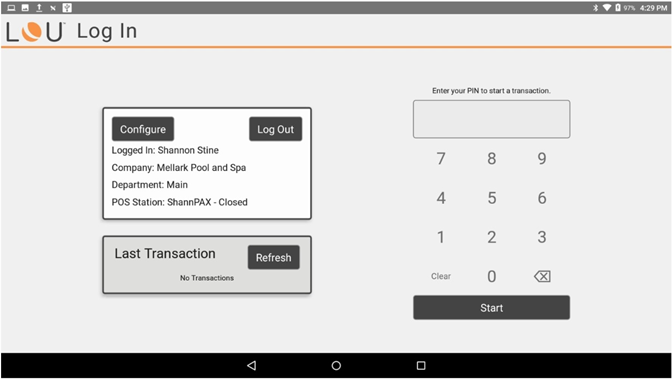 The POS Station (and Cash Drawer) is now closed. A Closing Receipt will print and the screen will quickly display a processing circle while it syncs to LOU Web. You can log out of LOU Retail POS.

You can access the History of the POS Station and reprint Closing Receipts by going to POS Station Management in LOU Web. Closing Receipts are not re-printable through LOU Retail POS on PAX.


Closed Station Report





Manually Open Cash Drawer
The cash drawer will automatically open when you complete a Cash Transaction or when closing the POS Station for the day. In the event you need to open the cash drawer manually, there are keys provided which will open the drawer. For security reasons, there is not a button to manually open the drawer. We recommend a manager or supervisor carries the cash drawer key in case it's required.

IMPORTANT! If you need help with opening the cash drawer and the key is not available, Evosus Support can help. The request will need to come from an owner/manager.